HAND DRYERS

Automatic Hand Dryers come in a range of finishes to suit most washroom needs. These hand dyers are fully automatic so there is no need to touch the surface of the hand dryer, making them more hygienic. All Automatic Hand Dryers come with manufacturers warranty. Please call us if you have any questions on our range of Automatic Hand Dryers.

Quartz Hand Dryer

The energy efficient Quartz hand dryer was the first fast-dry hand dryer to be awarded the UK Noise Abatement Society's Quiet Mark making it the perfect choice for high traffic environments where many dryers may be used simultaneously.
Servicing the Quartz is quick and easy - it can take as little as just three minutes.

Saniflow Push button

The Saniflow series offers a choice of premium quality heavy-duty hand dryers with excellent perfomance and service life. They feature easy maintenance, low noise levels, and a high factor of user safety. Utilizing precision component design, these dryers boast the most powerful air¬flow in the market that, combined with a combortable drying temperature, reduces drying time to a minimum. Available in a variety of cover options, push button or automatic operation, surface mounted, and up to 2250W of total power.
Heavy-duty & premium quality dryer




One of the most powerful airflow performance




Heating element includes a safety thermal cut-off




360º revolving nozzle




Options in push button or automatic




Available in most popular covers and finishes




Adjustable distance detection




Vandal-resistant surfaced-mounted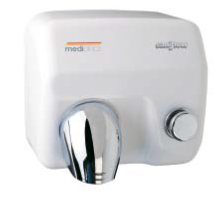 Speedflow sensor operated hand dryer

This dryer line is also designed to be environmentally friendly, including an important value added feature such as energy savings. Speedflow is a drying solution that minimizes energy consumption and CO2 emissions:
With a total power of 1150 W, it consumes an average of 3.83 W per drying cycle, which achieves an energy savings greater than 80% with respect to traditional hand dryers (average consumption of 19-20 Watts/cycle).




Under normal conditions, it is estimated that annually, a traditional hand dryer emits an average of 500 Kg of CO2. The Speedflow line consumes an average of 247 Kg of CO2, which represents a 51% annual reduction in emissions.




Manually adjustable high speed motor that allows controlling the noise and speed, which allows the hand dryer to adapt to any type of washroom environment.




Highly durable compact units with anti-vandalism features.




Available in different types of materials and finishes: White epoxy steel, AISI 304 stainless steel; bright or satin finish.




Low noise pollution, with a noise level between 64 and 74 dB.




Air outlet speed between 90 and 180 Km/h, achieving a fast drying time between 10 and 12 seconds.




Maximum drying safety with automatic disconnect after 60 seconds of continued use.




Electronic board with a microprocessor that controls the wear on motor brushes.